The climbing range of Theopetra
An impressive rock visible as you can approach Kalambaka from Trikala. The climbing range got its name from the village Theopetra found at the base of the rock. Theopetra is 5 Kilometers from Kalambaka. It has many climbing roads and is a popular place for climbing. It is of a sport character with many different roads.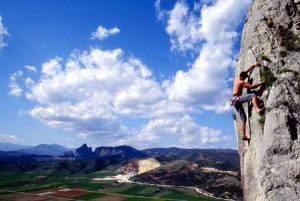 The rock: The rock of Theopetra is of a very good quality limestone. The opened passages are some of the biggest manily on the left-side of the rock. There is a big choice of different bas-relief, more commonly found on the light negative inclinations.

The roads: Up until today there has been opened 7 different sectors, although the total number of passages is 70, a number sufficient for athletic and traditional climbing.
Characteristics of the range

Have been opened
Number of passages
68
Measurement of difficulty
– 8a
Nearest city
Kalambaka
Best season
November – March
Fit for children
NO
Access range
25 min.