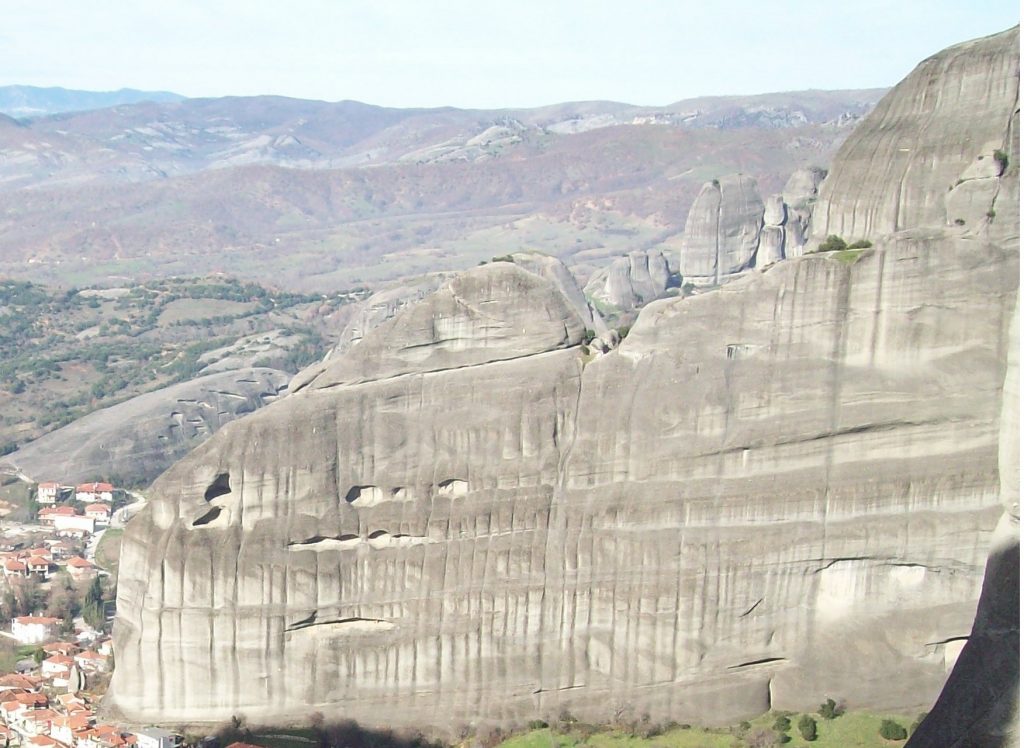 Footpath of Holy Spirit (Agio Pnevma)
A sign can be found at the northern part of the main square of Kastraki. The sign has green circles which you will find along the track to show the correct direction from the old city of Kastraki to the fountains of Neraeda. There continues a dirt road with broken pieces of rock turning into a slow accent up to what was, in the past, a Monastery dedicated to the Holy Spirit. It' s about an hour walk with a beautiful view at the top. You can find today the old church dedicated to the Holy Spirit dating from the 14th century.
Marking: 


Characterization: Moderate difficulty
Time: 50΄
Distance: 1200 m.
Altitude difference: 150 m.
Note: The use of GPS is your choice
Position
Data GPS
Height
Beginning of footpath
(Square of Kastraki)
0295921
4398757
285
Fountain of Neraeda
0296118
4398718
287
Old "Lakario"
0296218
4398726
292
Intersection of Oglas
0296275
4399020
381
Skete of the Holy Spirit
0296226
4398915
455
Useful advice!
The best season for walking at the Holy Meteora is Spring and Autumn. If you are walking in the Summer, you will need to have a lot of water with you. You should also avoid walking in the heat of the day (11.00 – 4.00 pm). In the Winter you should also avoid areas that are very wet and slippery.
You should wear shoes that are correct for such sports.
Please respect the holiness of the site and maintain the proper behavior.
Please keep the area clean of all forms of rubbish.
You can better organize your hiking excursion with the help of the private tourist offices in our city. Experienced drivers will guide you to the magical paths of Meteora.
| | | | |
| --- | --- | --- | --- |
| Name | Address | Telephone | Website |
|   | Patr. Demetriou St. 2, Kalambaka |  +30 24320 23820 | www.visitmeteora.travel |
|   |   Trikalon St. 32, Kalambaka | +30 24320 78455 |  http://meteora.com/ |
|   | Kalambaka |  +306976997953 |  http://meteora-tour.gr/ |
|   | Trikala |  +30 24310 87964 |  http://www.trekking.gr/ |